Posted by ApexLighting on 5th May 2016
A pair of Ford F250 Superdutys get matching LED makeovers.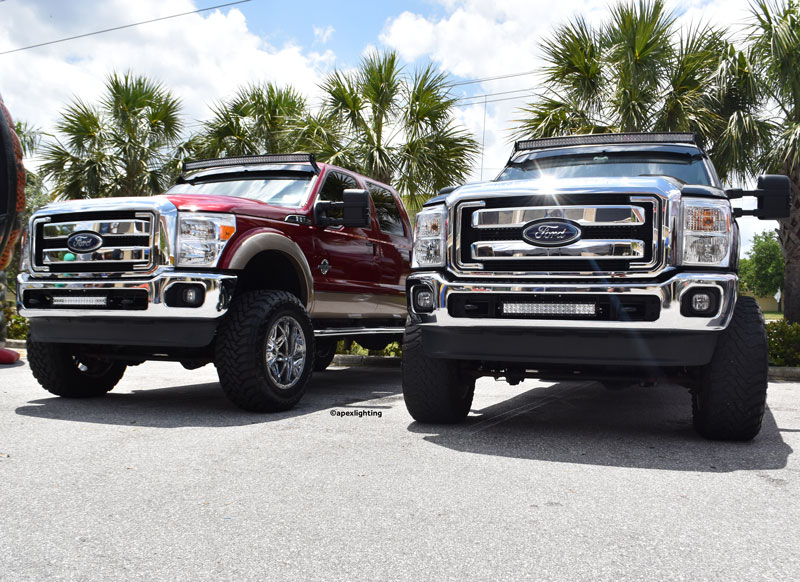 Business partners brought us their 2013 and 2015 Ford F250s to get a matching LED makeovers. They knew they wanted good quality LED lights, but weren't sure on exactly what products to get. We immediately recommended Rigid Industries for the LED light bars and Recon for the LED mirror lights, 3rd brake light and Bed Light Kit.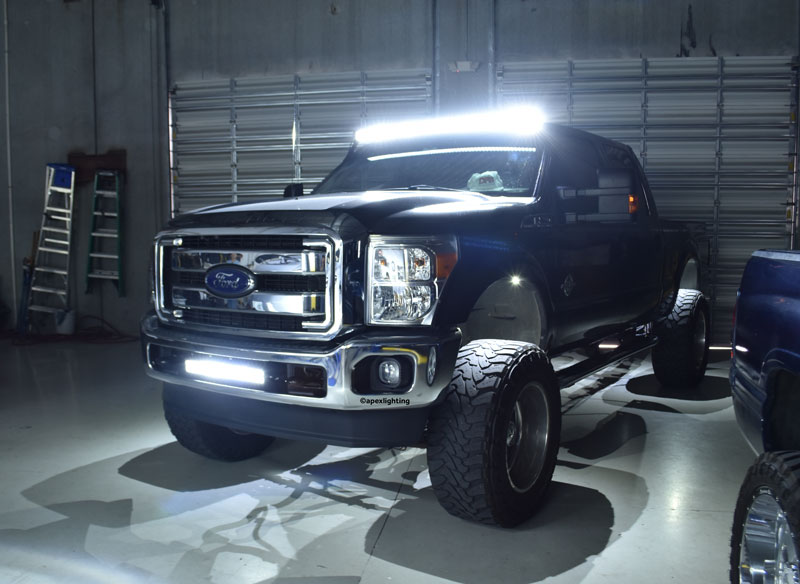 The Black Ford F250 showing off it's Rigid 54" RDS Curved Light Bar on the roof, 20" Rigid E-Series bar in the bumper and two Rigid A-Series rock lights in each wheel well.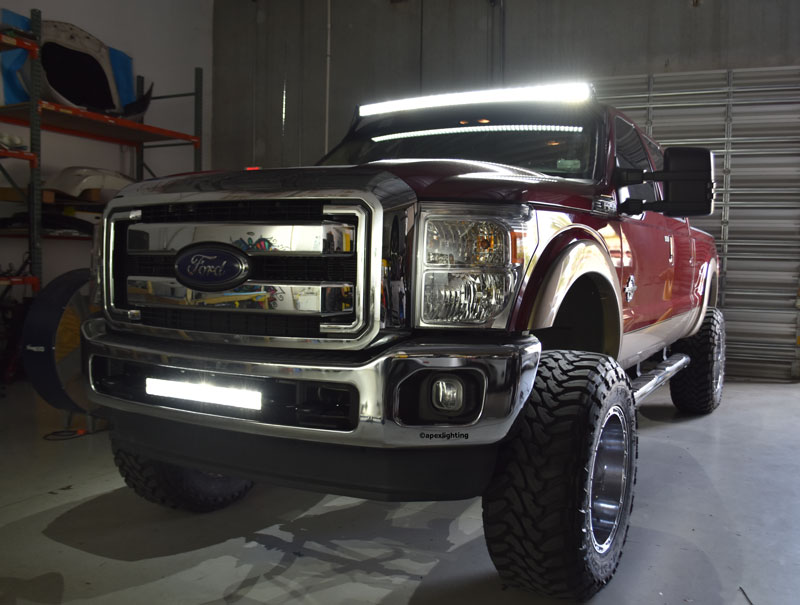 The Red Ford F250 with the same LED setup as the Black Super-duty above. Which truck do you like better?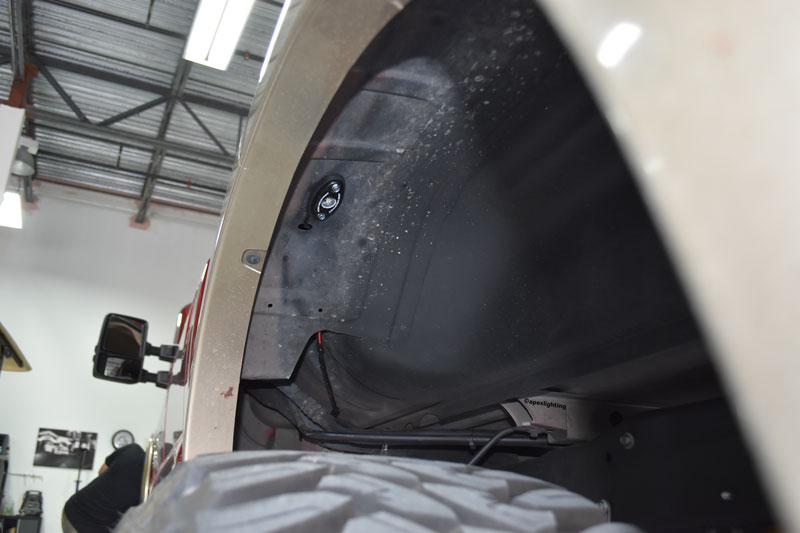 Both trucks received a pair of Rigid A-Series (Rock Lights) in Cool White in each wheel well, for a total of 8 Rigid A-Series on each truck. The Rock Lights we're mounted further out in the wheel well giving a nice and even lighting effect. All of the wire connections have been soldered and heat shrunk making sure they function properly for years to come.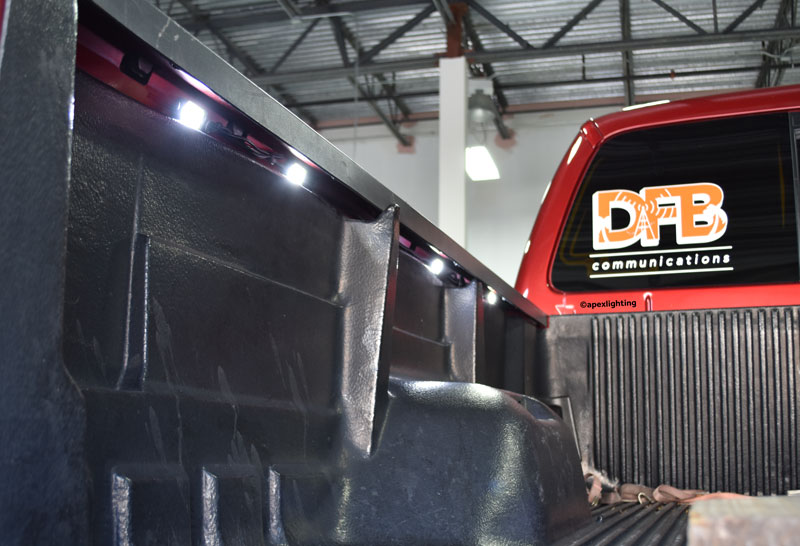 Since these trucks are used for work, we added a set of Recon Bed Light Kits so their owners can find their tools when working at night. These Bed Light Kits from Recon include 4 High Power LED pods per side and all the necessary wiring and mounting hardware to complete the job. These we're also connected to the factory up-lifter switches in the cab.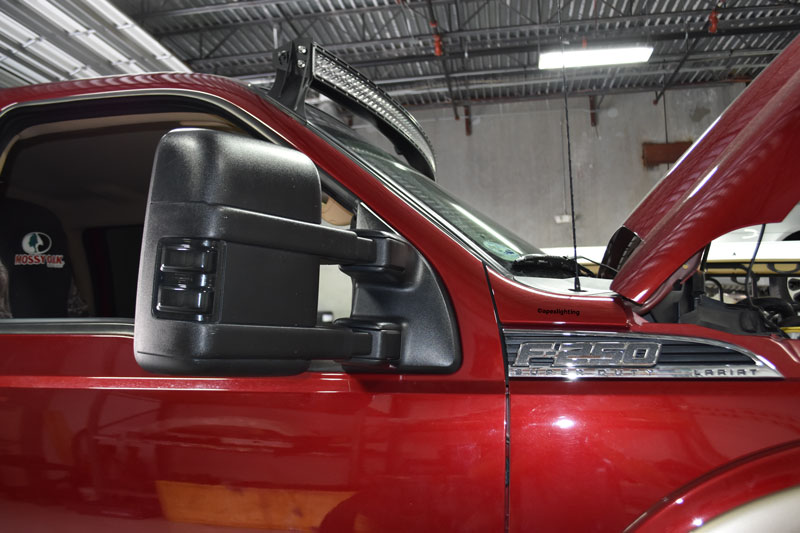 Another nice touch by Recon are these Smoked Superduty Side Mirror LED Lights. No more ugly orange lenses sticking out like a sore thumb. These look black when they are off, and light up amber when on. For about $100/pair, we think every Superduty should have a set.