Posted by Apex Lighting on 11th Oct 2016
Underwater Light Battle - SeaBlaze X vs Piranha vs Sport
We tested four $400.00 LED Underwater Lights to see which is the best. We decided to test the best selling underwater light of all time, the Lumitec SeaBlaze X vs the solid BluefinLED Piranha P6 and the brand new OceanLED Sport S3116s and BluefinLED P12.
Instead of boring you with Lumens, Watts, Volts, we decided to simply put all 3 of these lights side by side in a swimming pool and see which looks best. We setup the camera (Nikon D5500) on a tripod, set the ISO to 100, F-Stop to 5.5 and shutter speed to 1/30 and shot each light back to back. We ran all the lights off a 24VDC battery and did the tests around 9pm to make sure it's plenty dark outside.
Here are the results:
BluefinLED Piranha P6N. The least powerful of the three at 3150 Lumens, but also the least expensive of the three at $359.00. Although it's 1000-2000 lumens less than the other two lights in this category, it still looks pretty impressive to us.
Click Here to Buy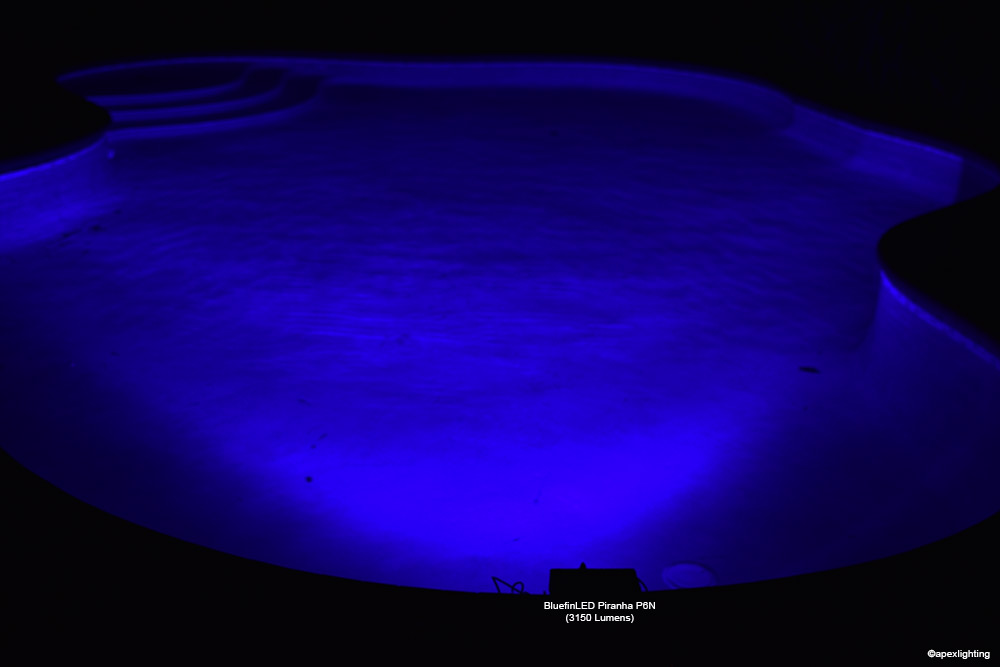 Lumitec SeaBlaze X. Without a doubt, the SeaBlaze X is the best selling underwater light of all time with over 100,000 units sold to date. These are made in the USA (Delray Beach, Florida), put out tons of light and seem to last forever. You can also buy the SeaBlaze X in a dual color White/Blue for the same price as the single color. Pricing is $386.10.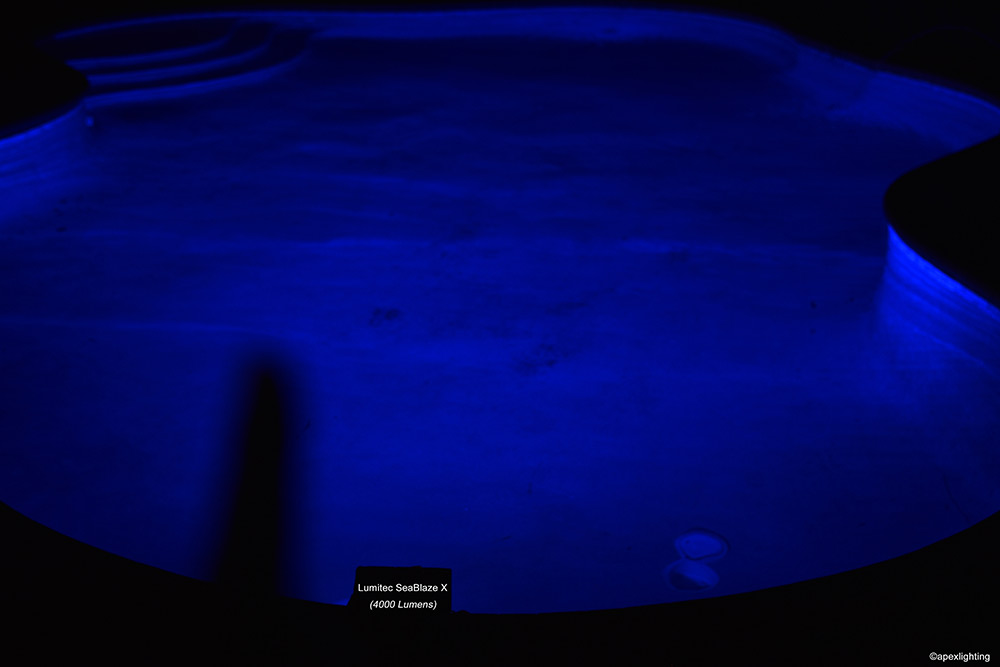 OceanLED Sport S3116s. Brand new from OceanLED, the Sport S3116s resembles the SeaBlaze X in shape, finish and even screw hole patterns. Where it differs is light output, boasting over 5000 Lumens compared to Lumitec's 4000. Pricing on the Sport is $449.10 which makes it the most expensive of the bunch.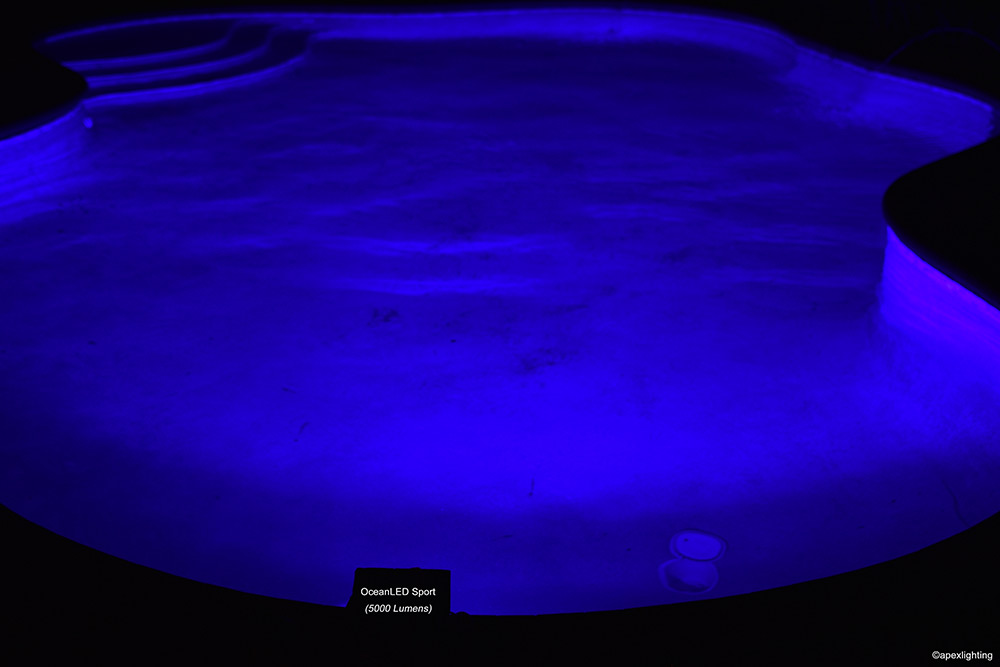 Update 10/14/2016
BluefinLED Piranha P12. We just got our hands on a pre-production Piranha P12 and we couldn't wait to share the pool pictures with you. Lumens for the P12 are around 5500 and our pricing for the P12 will be $436.50. The P12 shares the same body as the P6, so it's still compact in size and should fit on most transoms.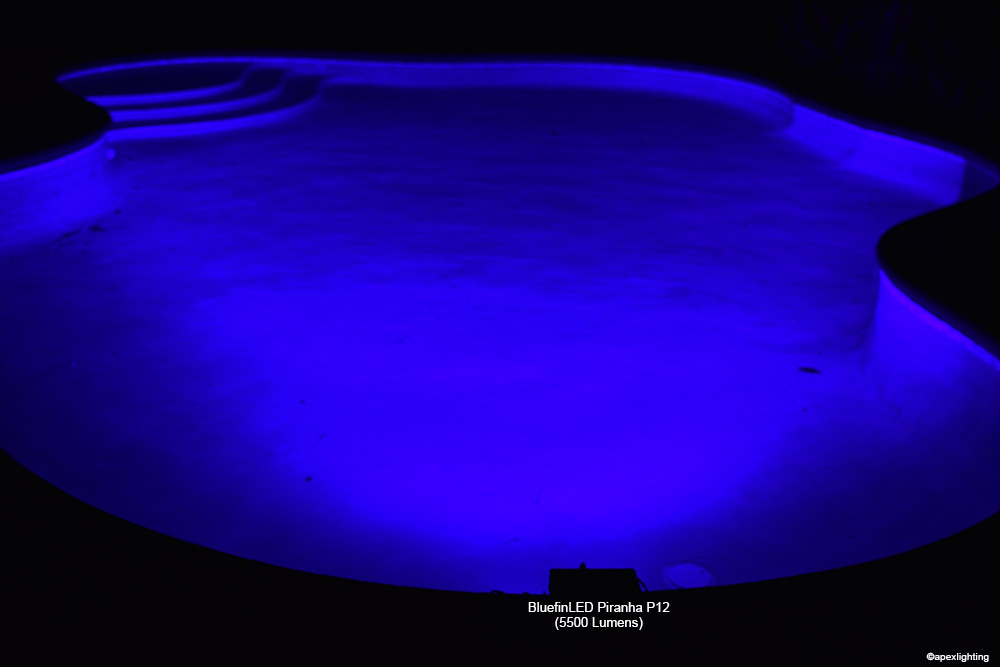 Let us know in the comment section below if you would like to see any other lights tested.