Posted by Apex Lighting on 6th Jun 2017
Dock Lighting Ideas for Above the Dock and Below the Water.
When is comes to lighting up the dock behind your house, or the docks at a marina or resort, we have lots of solutions for you.This includes Solar Dock Lights, LED Underwater Dock Lights as well as Metal Halide Underwater Dock lights. Every setup and location is different and this is why we offer different solutions to meet everyone's requirements.
Below are just a few examples of Dock Lighting projects we have completed.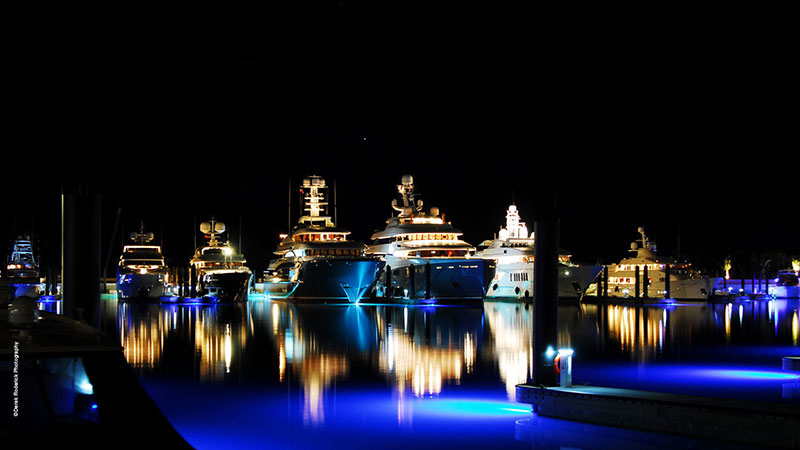 Photo above shows the marina of a high end resort in the Bahamas. In the above project, about 80 underwater dock lights from OceanLED D16 as well as BluefinLED DL6 lights we're used to light up the water in a custom light blue color. (Photo Courtesy Derek Roderick)
Additionally, about 150 sections of the 20" TritonLED strips we're mounted underneath and in front of the dock's deck to add more blue glow to the dock.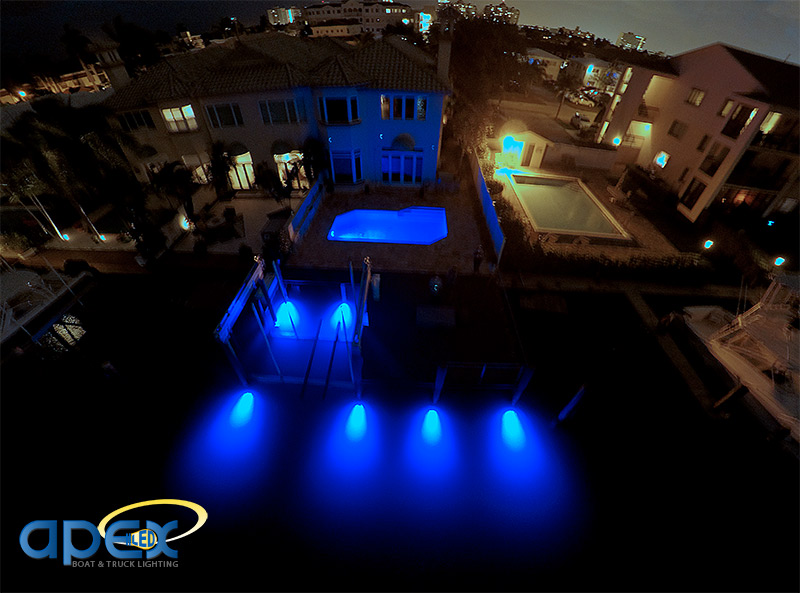 Here we have a residential dock located on a canal leading to the intracoastal in Fort Lauderdale, Florida. We installed 8 OceanLED D16 underwater lights to the pilings, as well as some 20" TritonLED strips under the deck. The outcome is very impressive with a elegant blue glow starting from the swimming pool and ending about 30' into the water.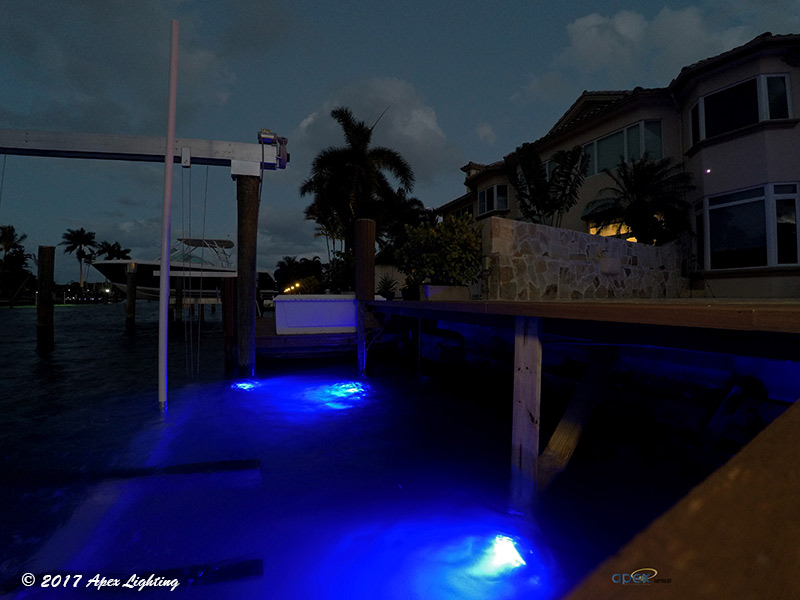 Close up view of the OceanLED D16 underwater lights mounted below the water onto the wooden pilings.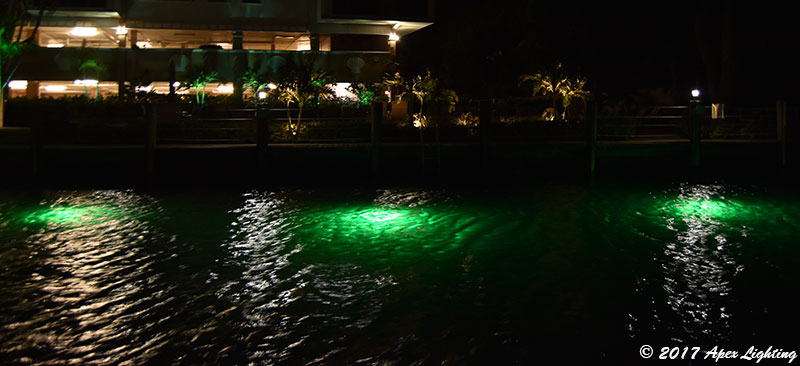 Another option for underwater lights is out 250W Metal Halide model called the Aura. This "orb" weight about 70lbs and simply sits on the ocean floor using a spike mounted at the bottom to prevent it from moving in strong tides. This light creates a 30-40' radius of light which often attracts lots of sea creatures. The advantage of Metal Halide over LED in this case is the Metal Halide lights create enough heat to prevent some algae growth.Therefore these need a little less maintenance.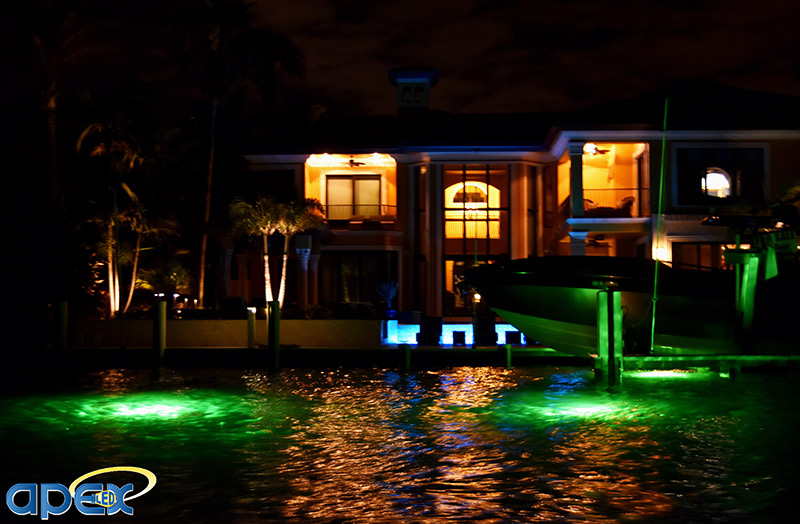 Metal Halide Aura shown at a residential home in Pompano Beach, Florida. Most clients tend to go with the Green color.
Short video of a couple of the Aura lights installed in a home in Miami Beach.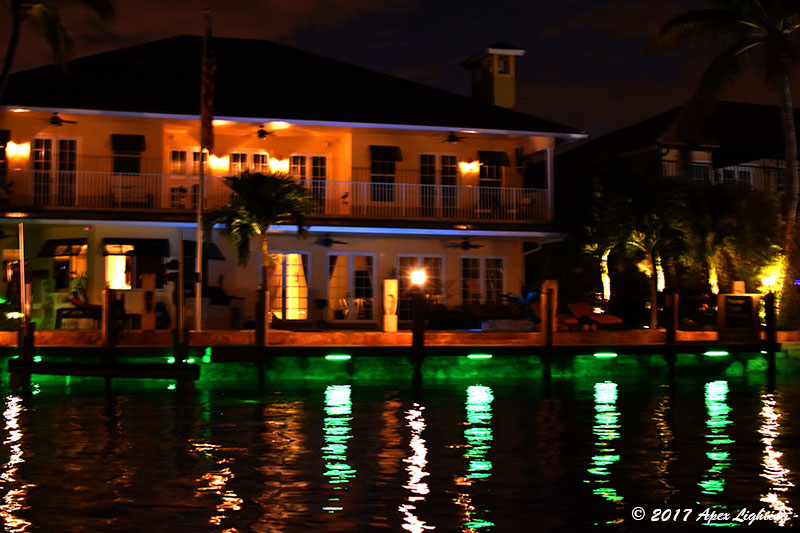 Another option for under the dock lighting is mounting a series of 20" TritonLED waterproof strips under the deck itself. This is a more economical solution and still adds a nice glow under your dock. The light will not penetrate the water as well as one of the underwater lights however.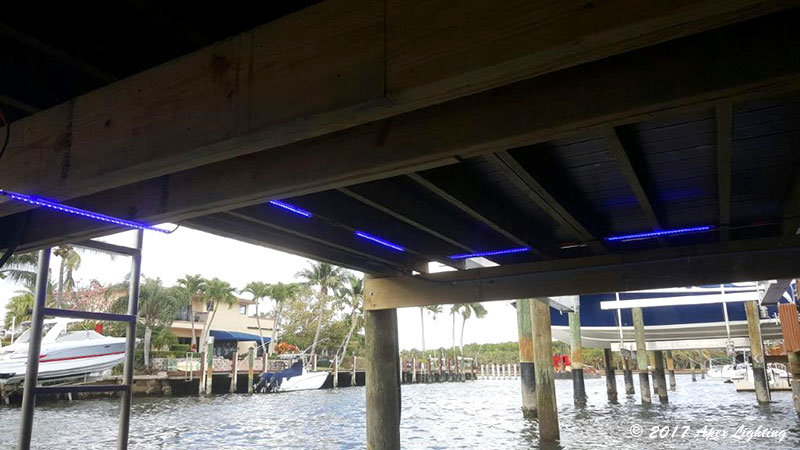 Above we can see a closeup look on how the 20" TritonLED strips are mounted and wired under the dock's deck. These are available in many different colors such as Blue, Red, White or Green as well as Color Changing.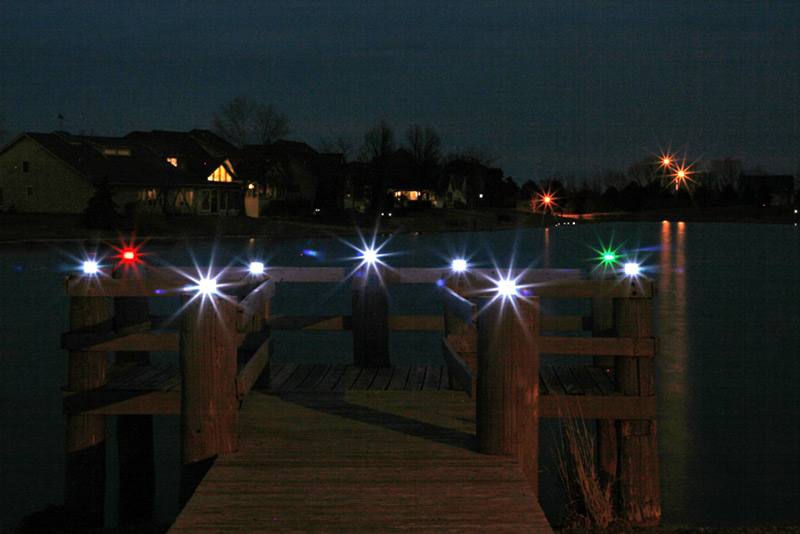 Don't want to get into running wires and an electrical connection to your dock? No worries. We have a nice selection of Solar Dock Lights. These require no electrical connections and simply screw onto your dock. They charge throughout the day using the sun and turn on automatically once it gets dark. This is the easier and quickest way to add some lighting to your dock.
Sol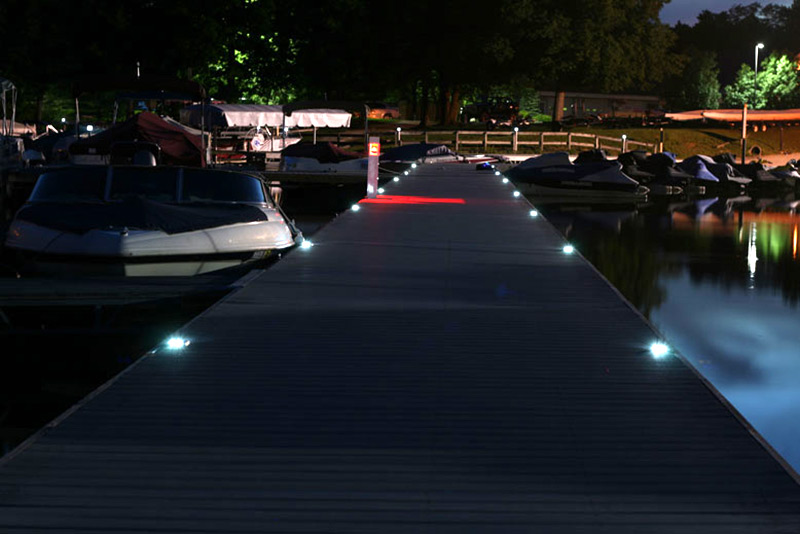 Solar LED Dock Lights are available for either mounting on the pilings themselves, or the Solar Deck Lights can be used on the floor of your deck to illuminate the edge of the dock for safety or just elegance.