Posted by Apex Lighting on 2nd Apr 2021
Pier 66 Hotel & Marina Dock Lighting
Pier Sixty-Six Marina is known as Fort Lauderdale's "finest social harbor." The iconic Marina and Hotel are a staple in the area and a well-known attraction. The Marina can accommodate up to 164 vessels and can comfortably dock vessels up to 400' in length.
While undergoing a renovation to offer an even more appealing experience for guests, Pier Sixty-Six Hotel & Marina in Fort Lauderdale was looking to illuminate their Marina. Despite the complete rebuilding of the Sixty-Six Hotel, the Marina remained open, and ownership made the decision to work with Apex Lighting for new lighting around the dock. New lighting at the Marina would increase nighttime visibility, raise awareness, and ensure that current and potential clients would know that it remains open during renovations to the hotel.
Apex Lighting puts time and care into building relationships with clients. After completing work with Pier Sixty-Six's sister resort Albany, Bahamas, Pier Sixty-Six decided to replicate that look with LED lights and colors similar in style.
The project included countless Lumitec Mantis Underwater Lights. Lumitec Mantis Underwater Lights are available in kits of three lights. Lights can be customized to change color, plug into any standard switched outlet, include a complete kit for easy installation, come with a 3-year warranty, and are made in the USA. The Lumitec Mantis lights used in this project were programmed blue to match the other existing dock lights.
The Apex Lighting team also used waterproof TritonLED Strips under gangways. 20-inch TritonLED High Output strips are currently priced at just $45.95 through Apex Lighting, and come in a variety of colors, including blue, red, green, white, or dual color (white/blue).
This project presented a very difficult challenge for the Apex Lighting team. The dock, which docks world-renowned mega yachts, is over 600' long. This was around six times as long as the average dock we work with, but our team was more than up for the challenge. We began with the Northside of the Pier Sixty-Six Marina (Causeway Bridge), and finished our work by installing lighting on their new floating docks on the Southside of the Marina. Lumitec Scallop Pathway Lights, set to blue, were also used on the South dock, which you can see in the image above. Lumitec Scallops come in stainless steel or bronze finish, are ADA compliant, and offer a full range of color options (RGBW).
One of the many interesting aspects of this project was the use of divers. Divers were used where work floats could not operate between large vessels. While small vessels at other docks can be easily moved out of the way, 300' mega yachts can't. Divers installed lighting in those tough to reach areas.
This was our largest project to date, and the final results exceeded the expectations of our clients. Every light and new system was installed and implemented without any issues. After the project was finalized, we realized that there is truly no project we can't handle.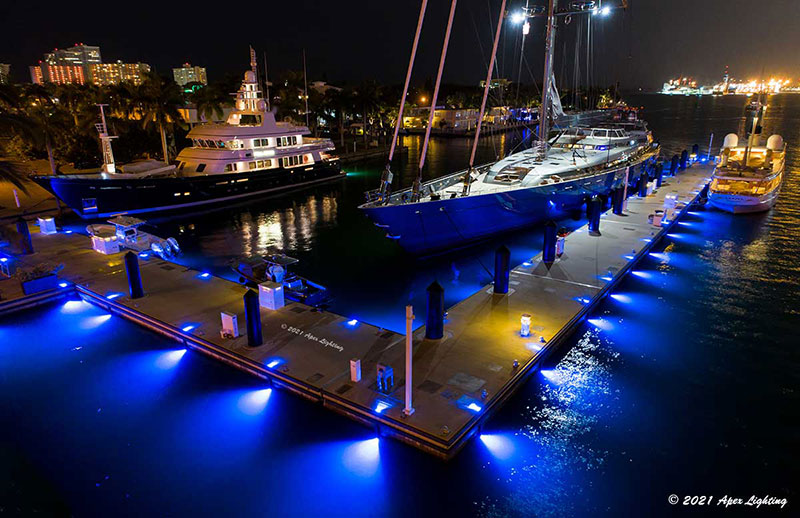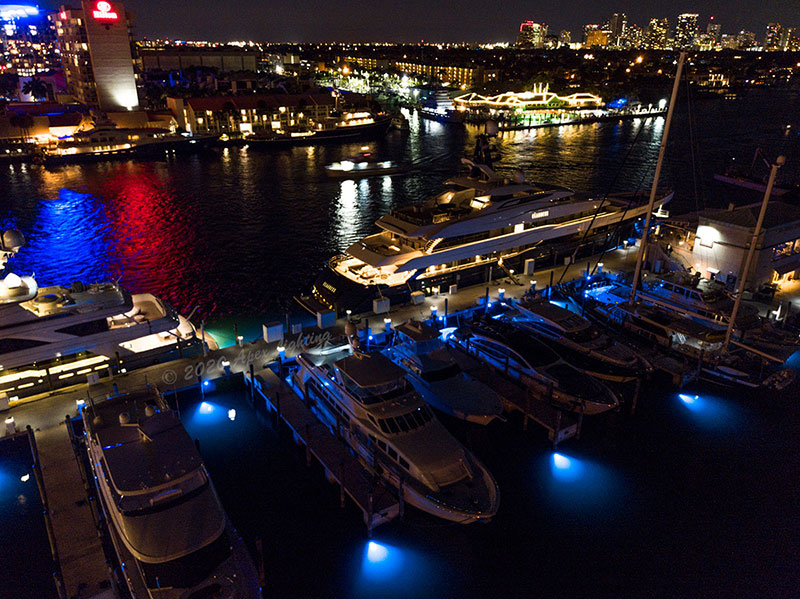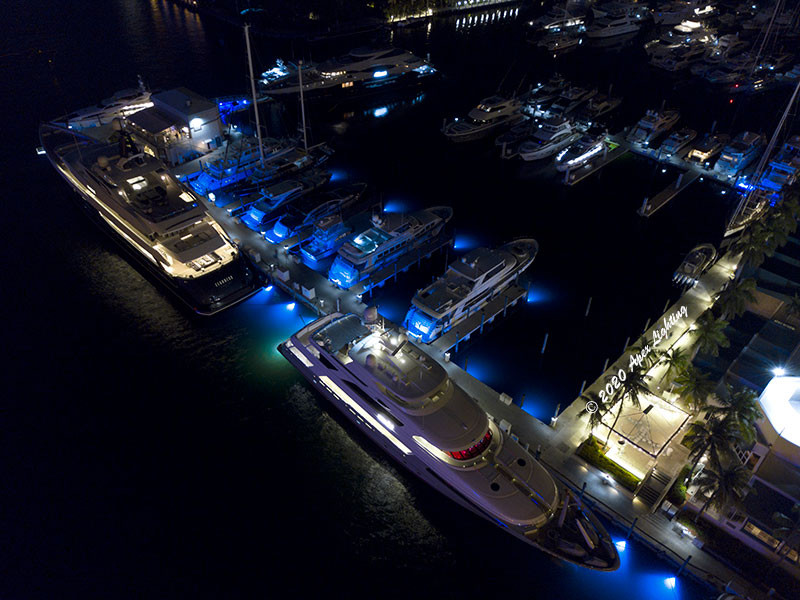 About Apex Lighting
Apex Lighting is an industry leader in LED dock, pathway, and boat lighting. For over twenty years, we have provided marine and outdoor LED lighting of the highest quality to marinas, docks, boats, and more.
Our solutions are fully customizable and our team will work to design a plan and system that fits your needs and desired style. Looking to light up your dock or marina? Get started with Apex Lighting today by calling us at 866.572.2739.
Shop for Lumitec Mantis Underwater Lights here:https://www.apexlighting.com/underwater/mantis-dock-light-kit-3-lights/
Shop for TritonLED 20-Inch Waterproof High Output Strip Lights here: https://www.apexlighting.com/boat-lights/led-strips/tritonled-20-inch-waterproof-high-output/
Shop for Lumitec Scallop Surface Mount Pathway Lights here:
https://www.apexlighting.com/dock-lights/lumitec-scallop-surface-mount-pathway-light/