Posted by Apex Lighting on 22nd Feb 2019
Underwater Boat Lights: What You Need to Know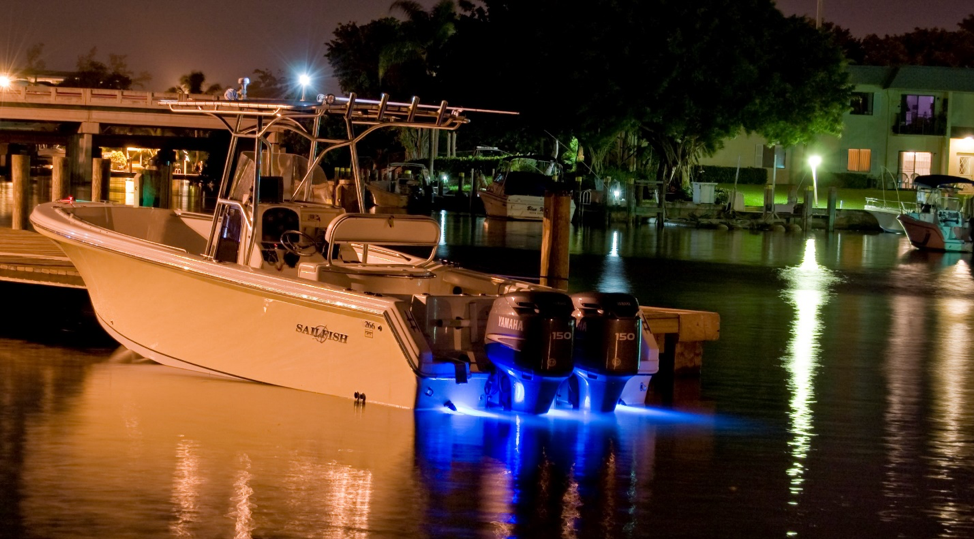 Owning a boat allows you to use it how you want, whenever you want. But without the right boat lights, you risk navigating with limited visibility. Using multiple types of lights in the right areas of your boat can help you safely navigate in situations where visibility is limited.
But lights on boats are no longer solely about visibility. They help provide additional safety when getting on or off, set your boat apart, giving it a unique look and appeal, and in the case of underwater boat lights, can aid in fishing at night.
Apex Lighting offers a wide variety of lights for your boat. Types of boat lights include:
LED navigation lights
Boat navigation lights
Underwater lights
Flood & deck lights
LED strips
Recessed
Surface fixtures
Engine room lights
Chart lights
Reading lights
Houseboat lights
Switches and dimmers
View our full offering of boat lights here on our marine lights page. In this short guide, we'll cover the basics of one of our most popular types of lights -- LED underwater boat lights.
Also Read: Boat Lights Overview: Types of Boat Lights & What You Need to Know Before Buying

What are Underwater Boat Lights?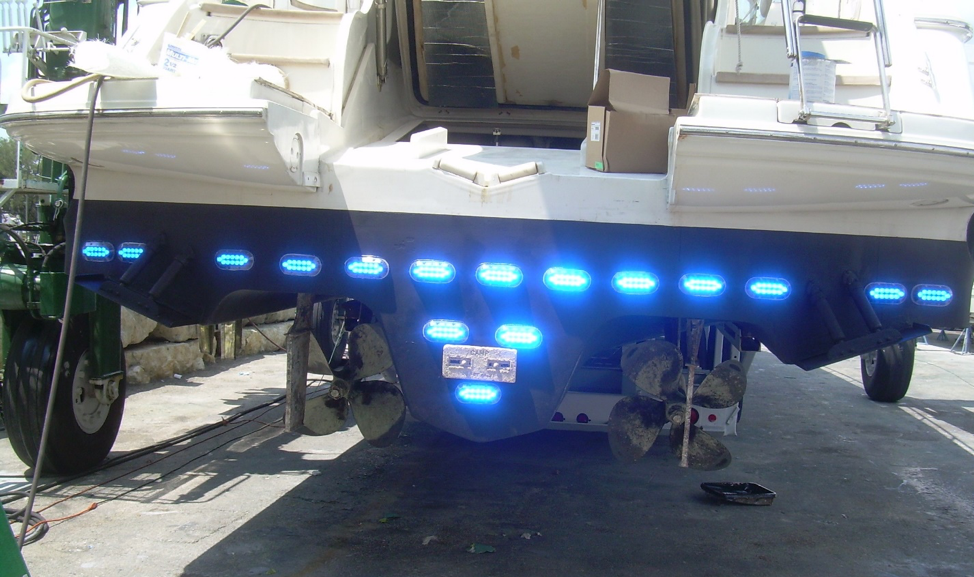 Underwater boat lights, commonly referred to as underwater marine LED lights, are either surface or hull-mounted lights. They are designed to provide light from just underneath the surface of the water when a boat is docked or in motion.
Underwater boat lights are designed and manufactured using advanced marine lighting technology and are created for marine use. They are durable and easy to maintain. When using them on your boat, they require installment.

How do Underwater Boat Lights Work?
Underwater boat lights use an external power source (commonly a boat battery) to project light. The light travels through the water from its location attached to the vessel. Depending on the color, brightness, location, and quality of the light, how far and how bright they shine varies.
The Benefits of Using Underwater Boat Lights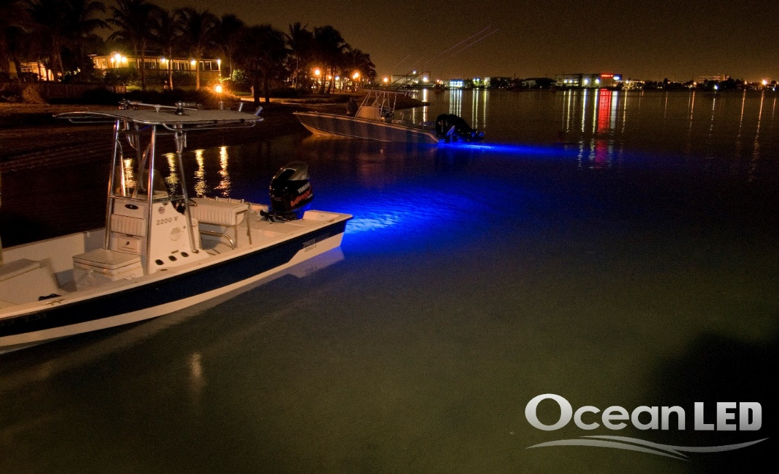 The benefits you can gain from adding LED underwater boat lights depend on your intentions and needs. Underwater boat lights are usually fitted to a boat or yacht for one or several of the following reasons:
Offer additional lighting for safety
Provide a unique look to a vessel
Improve visibility to help with navigating backwards or seeing behind the boat
To attract fish while angling at night
Underwater Boat Light Options for Your Boat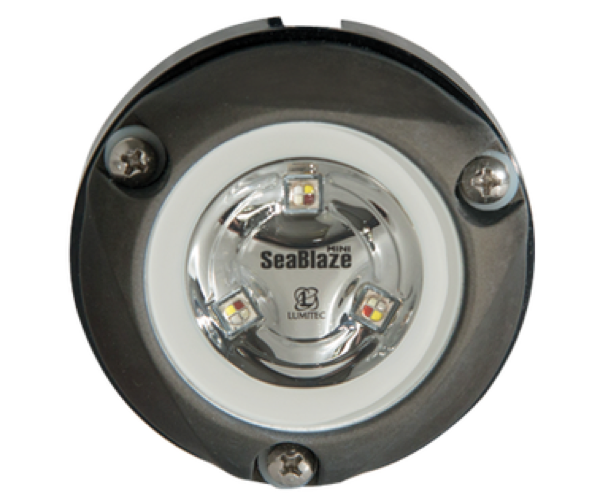 Pictured above is a Lumitec Zambezi Mini Spectrum Mount Underwater Light. This light is designed for small pontoon boats and skiffs, and is easily mounted with a 3-screw mounting footprint around 3" in diameter. This small LED underwater boat light is inexpensive at $199.95 from Apex Lighting, and requires very little power.
Underwater boat lights often come with warranties, multiple color options, mounting gear, and cables or plugs. The light pictured above is sold with a 3-year-warranty, stainless steel screws and plastic washers.
Underwater boat lights from Apex Lighting range from around $199 - $1,000. Options available from Apex include:
Fishing with LED Underwater Boat Lights at Night
Anglers use LED underwater boat lights during the evening to attract fish. Lights with a strobe function and combinations of colors (white, blue, green) can appeal to zooplanktons and shrimp, which will attract predators.
If you are using LED underwater boat lights for fishing, anchor your boat prior to turning on your lights and come to a complete stop. If in motion, fish will have a difficult time finding your boat.
Using at least two lights spread apart is recommended to increase the amount of water your lights will cover.
Have questions about boat lights, LED boat lights, boat navigation lights, underwater boat lights or LED boat navigation lights? Contact the experts at Apex Lighting today. Or, view our wide selection of boat lights here on apexlighting.com/e.