Posted by Apex Lighting on 22nd Feb 2019
Boat Lights Overview: Types of Boat Lights & What You Need to Know Before Buying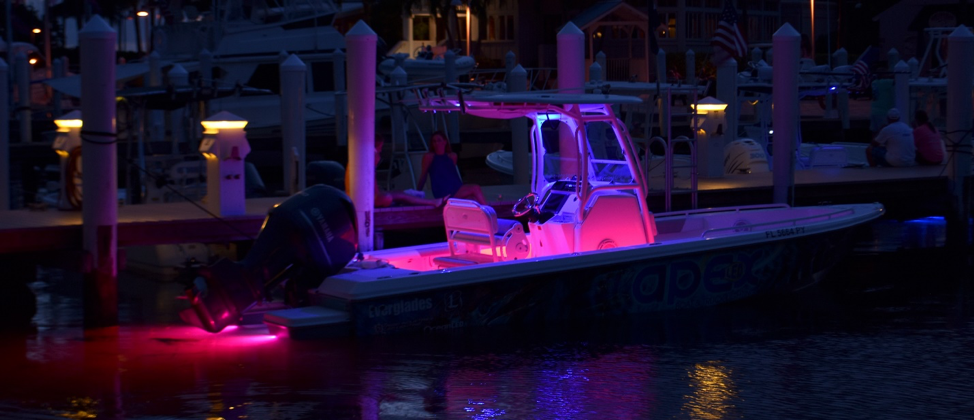 Boat lights, like most accessories on your boat, play both an essential and complementary role. They provide needed light for navigation, guide your boat guests safely on and off of the boat, and they accentuate the look of your vessel at night. They can be placed nearly everywhere on your boat, from mounted underwater to stationed on your console.
Apex Lighting is a marine LED lighting store and team of lighting experts. We sell the best LED boat lights and marine lighting fixtures. To equip or replace your boat lights or LED lighting wiring, we created this short guide to explain the most common types of boat lights, what you need to know before purchasing, and examples of boat lights in each category.
View the Apex Lighting Boat Light Inventory Here
When equipping your boat with boat lights, you need to consider:
Safety needs
Cost
Size of your vessel
Time of use
Location
Wiring and electricity needs
Now let's jump into what you need to consider when fitting your boat with lighting.

The LED Advantage
LED lights are superior to traditional lighting options, including filament-based lights. LED boat lights are efficient and consume less power, are brighter, more reliable, and radiate less heat.
We believe that they are the perfect type of light for boats, and where your search for lights for your vessel should start.
The four types of lights we will cover in this guide include underwater boat lights, flood and spreader boat lights, strip and under gunnel boat lights, and boat navigation lights.
Underwater Boat Lights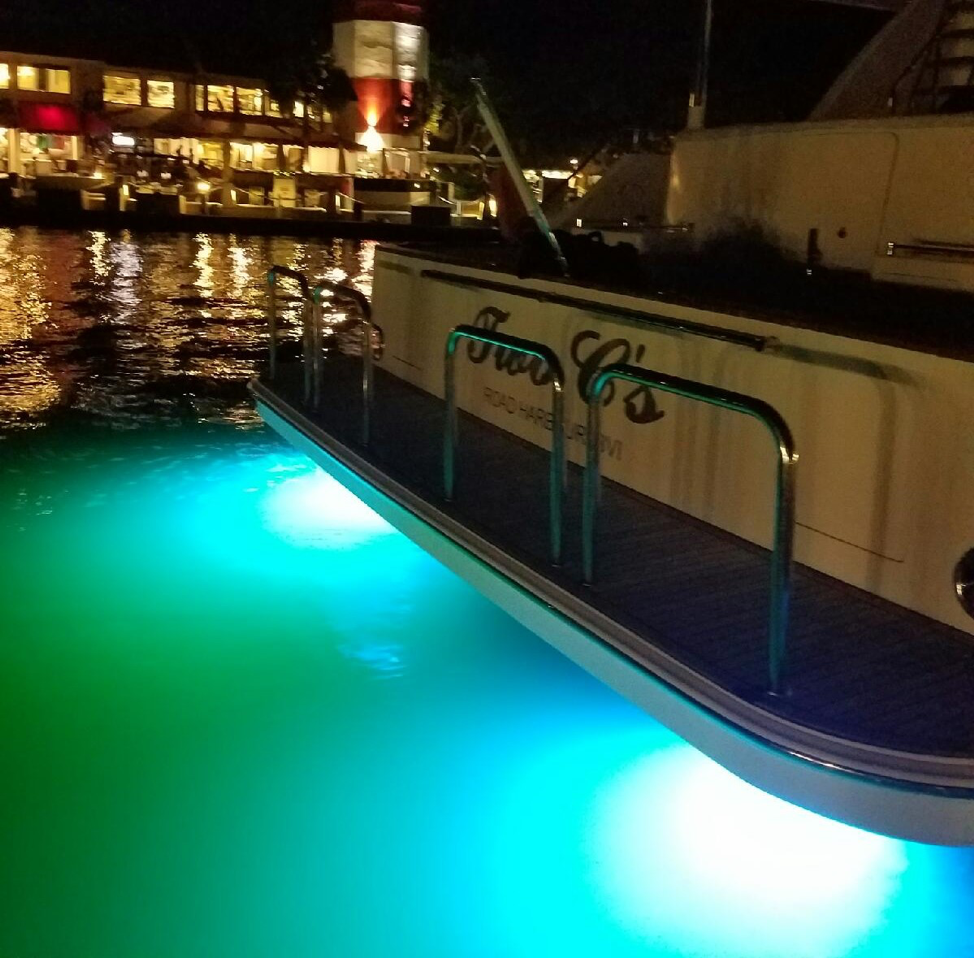 Underwater marine LED lights have been rising quickly in popularity. The lights are especially popular among owners who travel and fish at night and need more visibility in the water than what's provided with standard lighting. They are also a way to add elegance and enhance the look of your vessel at night.
Underwater boat lights require installment. They can be surface mounted or mounted inside the hull. These lights must be designed for marine use in order to withstand harsh conditions and last for years to come.
Apex Lighting carries high-quality marine LED lights that are through-hull lights and surface-mounted lights from the leading LED brands, including Lumitec, BluefinLED, Lumishore, Abyss and OceanLED.
Underwater boat light options from Apex Lighting, which range from $199 - $1,000+, include:
Learn more about underwater boat lights here.
Flood and Spreader Boat Lights
Most commonly mounted on a console and near navigation, flood and deck lights are used to illuminate dark areas in front of the boat. They are easy to maintain and powerful. They come in a wide variety of voltages, including 12v, 24v, 110v and 220v. Spreader lights are mounted to the spreaders on the mast of a sailboat and serve a similar purpose to flood and deck lights.
Flood and spreader boat light options from Apex Lighting, which range from $59 - $900, include:
Rigid Marine E-Series 6" LE
Learn more about flood and spreader boat lights here.
Strip and Under Gunnel Boat Lights
Under gunnel boat lights come in strips and are often made in a flexible form, including in the form of a light rope. Apex Lighting carries a wide variety of high-quality marine LED light stripsfor boats and yachts. Strip lights can be used on the exterior and interior of your boat, adding a unique look to your vessel. LED strips come in multiple color options to cater to the interior and exterior design of your boat.
Strip and under gunnel boat light options from Apex Lighting, which start at less than $10, include:
Learn more about strip and under gunnel boat lights here.
Collisions are a real danger of using your boat at night. Navigation lights help prevent night collisions when visibility is limited. Apex Lighting offers high-quality LED navigation and anchor lights from Hella Marine, which are built to increase safety with greater visibility and style.
Boat navigation light options from Apex Lighting, which range from $76.95 - $440, include:
Taking the First Step – Getting Started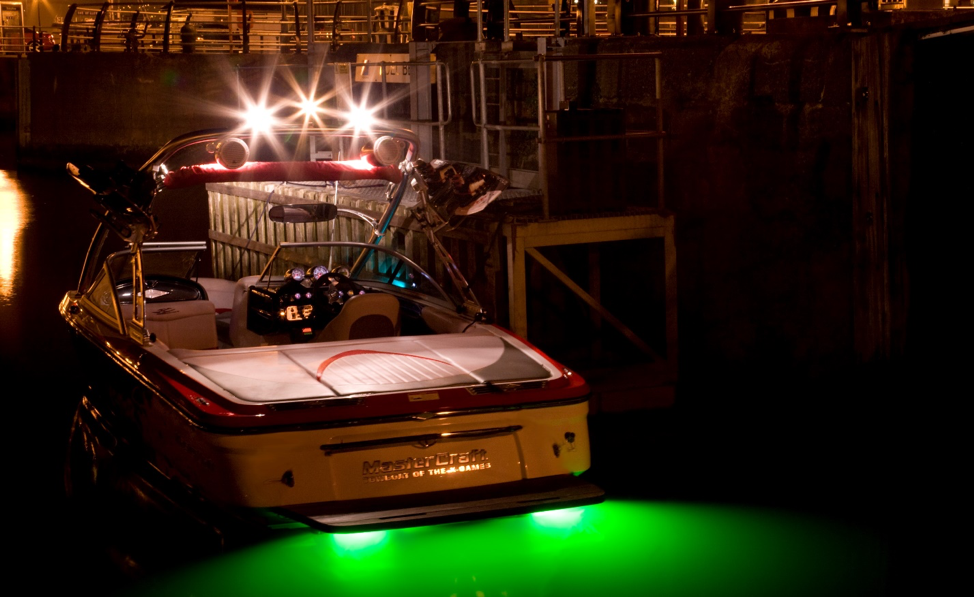 Are you ready to make your boat look great and increase nighttime visibility? Then it's time to make a few additional decisions. Now that you've settled on getting new LED lights for your boat, you need to:
Define your available budget
Determine if you want to keep existing fixtures or replace them
Choose where and how many lights you want to equip your boat with
Determine your power consumption needs
After deciding on your fixtures and bulbs, make sure the bulbs are suitable for marine use. You will also want to purchase replacement bulbs. LED bulbs typically last thousands of hours, but you will want several on hand in the case that one needs to be replaced while you're out on the water and visibility is minimal.
For more information on equipping your boat with the right LED lights, we recommend reading the BoatUS guide titled "Let There Be LEDs."
See what boat lights are available from Apex Lighting here. Have questions? Ask away, we're happy to help! Contact us online hereor call us at 954-421-3267.